It's true that you can learn anything on your own. All great stars in any category of life have teachers and coaches that bring them to the top and keep them there.
Let's face many times an outside perspective is just the thing we need to excel or overcome a major issue in our lives. We need solutions and an insightful plan to do even the hard things in life.
If you are challenged in any way in this life.
I want to help you….
If you want more from this life than you currently have. I want to help you…..
I want to help take you from where you are to where you want to be.
I get results….
I am loving heartfelt and compassionate and can be much more ruthless than your problem. As a Grandmaster in Martial Arts I know how to resolve conflict and to never give up on anyone or anything. As a Spiritual/Meditation Teacher I know how to open hearts, be compassionate and achieve peace.

As a Master Trainer in Brain/ Mind communication systems such as NLP (Neurolinguistic Programming), advanced Hypnosis and Mind Works I know how thought works, belief systems are made and how to reprogram the brain.

As a certified Health practitioner (Massage, Reiki, Cranial Sacral, Amatsu, Yoga, Junan Taiso etc.) I understand how to integrate these changes into the body and to align the body/mind/spirit matrix.

I have unique skills and a lifetime of experience that has helped me bring change and transformation to thousands of lives (see bottom of page) in about anyway you can think. I have also changed my own life drastically (see bottom of page). Let me help you with yours.
Private Transformation Sessions - People come to me for all different reasons.
I was born with a gift… a way to see human patterns and to read what people need at the core of their being to be whole again. To cultivate this gift I studied with master teachers so that I could best utilize my gift in helping people own themselves and their lives more fully, re-pattern their thoughts, re-think their challenge into solutions, create successful outcome strategies, breathe freely, and open their heart to live as they take the steps to resolve the issues or enhance their quality of life in a natural way.
Some people come to me because they have problems-
During these inspiring Personal Transformation Sessions I have seen people's lives be changed every time without exception, no matter what the issue. And over the years I have experienced some pretty radical situations, overcoming rape, excessive drug use, suicide attempts, wrist cutters, broken marriages, murderers, cheating partners (business and private), thieves that don't want to do that anymore, hormonal outbursts, transgender (which sex should I be?), death of loved ones, court battles, custody battles, self esteem, sex, weight loss, financial (no money – sudden money), parental elderly care, Illness - hurt bodies, no spiritual connection, etc. You get the idea. If you want something changed then let's talk about it. You will not get any judgment from me.
If you are looking for or needing a small change of resolving a pressing issue, or you just want to go to the Next Level or you want a complete radical life Paradigm Shift then book your session and let's get started.

I'm only looking for people who really want to change now.
So, if a real change is what you want then I want to work with you.
Some people come to me because they just want to take their lives to the Next Level.
Have you ever thought "I'm bored, there must be more to life"? Ever just feel stuck? Ever need to just get the life juices flowing again? Ever have that empty feeling and wonder what my life purpose is?
Spend a day (or two) with me doing my Creative Life Discovery process, Mirror of Life process, Total Being spiritual practices, and create a Dreamweaver Plan to re-energize your body, mind, spirit and life. Optimal Life Tune up is waiting for you. Give yourself the gift that keeps on giving.
I am perfectly open to teaching you one-on-one the skills that I personally use to live an Optimal Life or those I teach in the Optimal Life System. Or sharing whatever I have learned with about self improvement and human transformation. We can go deep as long as it is something that empowers your personal life.
Whether you want to just be taken to the Next Level in your life or you need a radical Paradigm Shift now I am here waiting to assist you in that experience.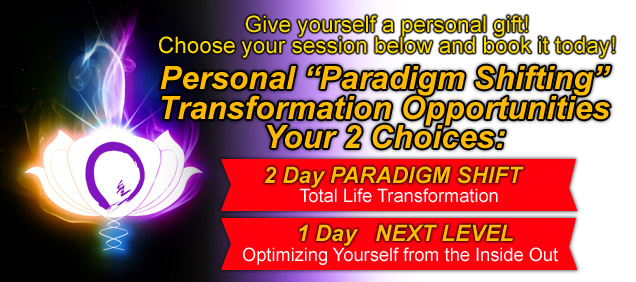 You come to me or I go to you.
I do sessions most anywhere in the world. If I must travel to see you and if it is an emergency for us to meet and that forces me to interrupt my schedule that will affect your investment, above what I offer below.
Most people come see me in Northern California about 2 hours north of San Francisco in the lovely Napa wine country. Your Next Level or Paradigm Shift Session will be power packed with ideas and methods for change. You will go away with deep life changing insights, resolutions to your challenges, strategies for change or success, feeling better about yourself and a whole new way of thinking. You are guaranteed to go away with changes and a plan towards a better life.